Lure Customers with these Pokémon Go Marketing Strategies
If you've had the pleasure of having to dodge more people obliviously glued to their phones than usual, chances are you're already aware of the instant hit mobile app Pokémon GO. The newest iteration of the 90s craze, Pokémon GO takes the childhood dreams of many and makes them real, using augmented reality (AR) technology to bring the game off of your Game Boy and into the real world.
But can it also make you money?
Although the game is fairly new, data from the first two days of release showed that Pokémon Go was already bigger than mobile staples like Tinder. The game was installed on an astounding 5% of all Android phones after two days alone! Now, new data shows that Pokemon Go is in fact the largest mobile game in U.S. history, surpassing the infamous Candy Crush. Not only that, but users are logging more time in Pokémon GO per day than Instagram, Snapchat, and WhatsApp!
With this large, attentive fan base already built in, businesses are looking at ways that they can use Pokémon GO to drive sales and raise awareness for their products and services. Here are just a few of the strategies that companies are already implementing.
Let the World Know
In Pokémon GO, there are locations known as PokéStops, which are area landmarks that give players the ability to replenish their supplies. If your business is lucky enough to have been deemed a PokéStop, you've probably already seen an influx of people loitering in and around your store. Why not give them a reason to log off for a few minutes and do some business with you?
Restaurants and other brick-and-mortar businesses are placing signage advertising their in-game designation. In addition, businesses are incentivizing participation in Pokémon GO at their locations with discounts and rewards.
Lures are Basically Advertisements
One of the features of the aforementioned PokéStops in Pokémon GO is the ability to add a Lure Module to a stop. This causes extra Pokémon to spawn near your location in the game, which will cause even more people to flock to your location. It is noted in the game by a shower of hearts, as seen below: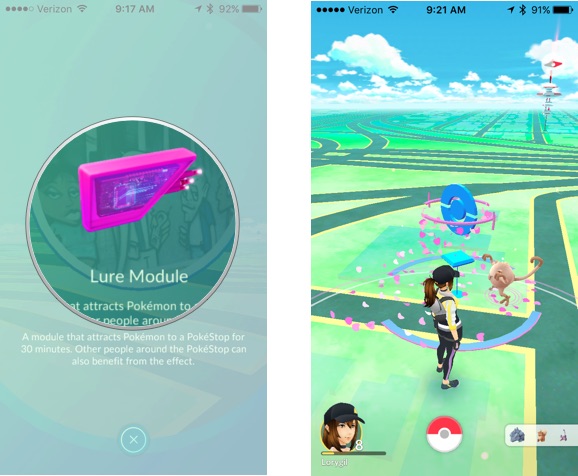 So why not lure people in yourself?
To purchase a Lure Module, which lasts for 30 minutes, it only costs $1 (you can purchase in-game currency with real money). To purchase 8 Lure Modules, or 4 hours of in-game advertising, you'll pay approximately $6.80. Buy in bulk, and increase your ROI.
Though the name Lure is meant to refer to Pokémon being lured to the location in the game, it literally lures players to the location in real life as well, so use this as an opportunity to give players more bang for their buck and coming back for more when they've logged off.
Take a look at this Facebook event at a business in Australia with 3 PokéStops, which the organizer will keep operational as Lures while they offer customers opportunities to earn free cocktails and prizes.
A Wild Brand Appeared!
Though Pokémon GO has inspired high daily User Activity times, that doesn't mean that players are only looking at the game now. Use that opportunity to pair your brand with their new interest in Pokémon on social media. Brands are taking to Twitter, Facebook, and more to keep themselves top of mind with their customers by jumping into the conversation.
Just another reason to come by #FuzzysTacoShop today. Thanks for the report, @MatthewGrant10. #PokemonGo pic.twitter.com/lYWNOEZQPN

— Fuzzy's Taco Shop (@fuzzystacoshop) July 11, 2016

However, make sure you aren't being a try-hard. Authenticity is important in digital media, as people realize they are being marketed to. Something like this will simply be ignored:
Countable: it's like #PokemonGO except not really and it lets you contact your lawmakers and understand legislation: https://t.co/XXSNMQns7e

— Countable (@countable) July 11, 2016
You could also take a very high risk, high reward angle and make a ridiculous video like Totino's did for its famous Pizza Rolls.
JUST CAUGHT THIS PIZZACHU #PokemonGO pic.twitter.com/vo19xdnQCB

— Pete Zaroll (@totinos) July 11, 2016
Another way to utilize social media is to take it out of your hands and put the (Poké)ball into the consumer's court. You've showered them with discounts and Pokémon, now give them a call-to-action to review and promote your business via Facebook, Google, Yelp, Foursquare, and other social review outlets.
Some (Not So) Farfetch'd Ideas for the Future
Because Pokémon GO is only a week old (and not even available yet in some international markets), there are countless things that Niantic, the developer of Pokémon GO, can do with the platform to improve and allow businesses to use it as a platform for marketing and awareness. Niantic's CEO has already announced businesses will have the opportunity to add their location to the map, as a "sponsored location".
Maybe there's more, though. Perhaps they could create a Waze-like ad platform, where an advertisement or a coupon for a business pops up if you're in the vicinity of it. There's the potential for Pokémon GO to hold large-scale events, which businesses would be ready and willing to sponsor for the free promotion.
With any new digital medium, being unorthodox and trying new things will almost always capture the most attention, so the best strategy or opportunity may not have even been conceived yet.
While we wait for it, I heard there's a Pikachu a few blocks away.